Happy Valentine's Day, lovers! It's that time of the year when we celebrate love, romance and everything that makes our hearts flutter. For many of us, spending time with our significant other on this day is the highlight of the year. But, with the world being the way it is, some couples may not be able to be together on this special day.
Long Distance Romance: Hampers & Zoom
We believe that love knows no distance. So, why not make the most of technology and open your hampers together over video call? Picture it: you both are cozied up in your respective homes/hotel rooms, sipping a glass of wine, and watching each other's eyes light up as you each uncover another little surprise. How romantic is that?
With video conferencing platforms like Zoom, you can now have a virtual date with your sweetheart and make this day just as special as ever. We can deliver your hampers before the Valentine's Day ready for the romantic evening.
Romantic Valentine's Day Hampers
At Creative Hampers, we want to help you make your beloved feel special, even if you're miles apart. Our beautifully packed and wrapped hampers are designed to create a warm and romantic atmosphere, so you can send a piece of your love and affection no matter where they may be.
We offer a wide range of hampers, each carefully curated to meet different tastes and budgets. From indulgent chocolates and bubbly to romantic scents and cosy candles, we have something for everyone. And the best part? We send anywhere in Australia, so no matter where your sweetheart may be, we'll find them!
So, sit back, relax, and let us help you make this Valentine's Day one to remember. Whether you're near or far, let us help you spread the love. Make the most of this unique Valentine's Day and bring the love to your screen. Trust us, you won't regret it!
5 Gift Hampers for Long Distance Lovers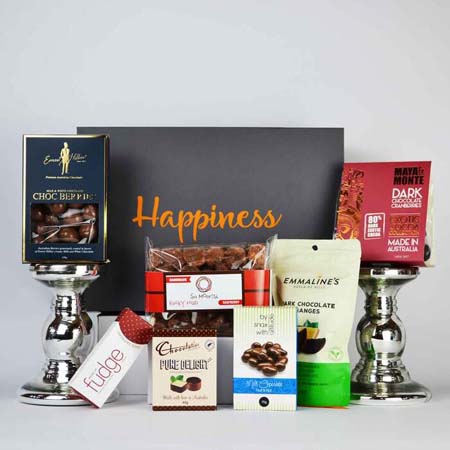 Chocolate Heaven
this one, obviously, is for those with a weakness for the cocoa bean. Everything a chocolate-lover could want is here, from scorched almonds and chocolate berries, to rocky road and classic fruit and nut. It's indulgent, comforting and perfect for a slow evening on the couch making the most of your virtual date.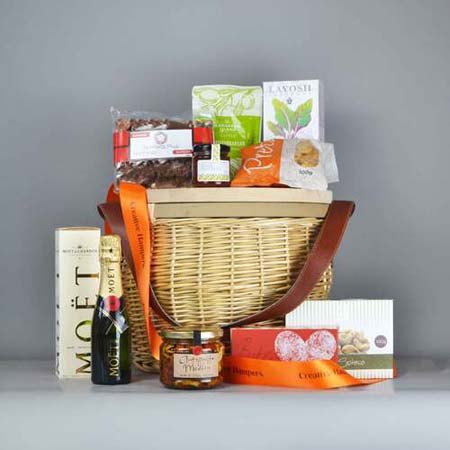 Bubbly Days Out
Sure, picnics are traditionally had outdoors, but there's something intensely romantic about laying out the rug on the living room floor with you at one end and your beau on the screen at the other, a private rendezvous for two. Perhaps that has something to do with the bottle of Moet & Chandon. Or the Antipasto Medley. Maybe the shortbread...
Brain Games
Make it feel like they're in the room with you as you both get lost in fun and games. Have a tea, some shortbread and chocolate, while you solve the crossword together. Fun and romantic – that's what Valentine's Day is all about.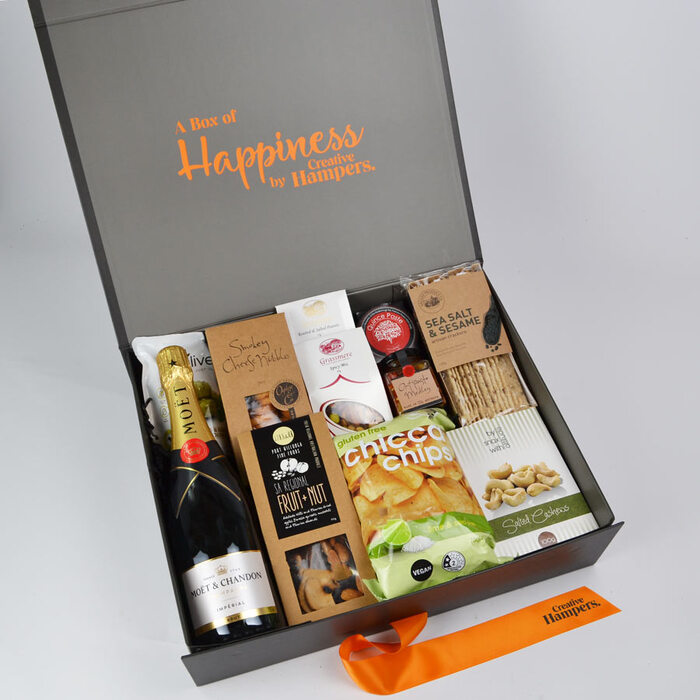 Savoury Nibbles
Toast to your love this Valentine's Day with a bottle of Moet & Chandon Champagne and an array of delicious savoury treats. This hamper includes a crisp and elegant brut Champagne, along with premium nibbles like olives, chilli almonds, salted peanuts and velvety quince paste. Make this Valentine's Day unforgettable with the perfect blend of luxury and flavour.
Zen
Just because you're not in the same room doesn't mean you can't Zen out together. Bring the atmosphere of a high-end spa into both homes with the luxurious waffle cotton bathrobe, charcoal facial mask and a Peppermint Grove scented candle. Lie back and enjoy this deeply relaxing experience together. Trust us – the you'll think they're right there with you.
Whisky Warming Glenmorangie
Is one of you a whisky connoisseur? Perhaps both? Forget the distance and pretend you're visiting a high-end distillery together to sample a tasting paddleboard. With four of Glenmorangie's finest to try, you can compare notes like they're sitting next to you at the bar.
Close the distance this Valentine's Day with Creative Hampers
We're here to make this Valentine's Day one to remember for long distance lovers. With our carefully curated hampers, beautifully packed and wrapped, you can send a piece of your love and affection no matter where your sweetheart may be. And with the help of a video call, you can open your hampers together and experience the romance from the comfort of your own home. So, whether you're near or far, let us help you make this Valentine's Day one for the books - convenient, yet full of love and romance.