Making Your Corporate Christmas Hampers Unforgettable
It's that time of the year again, Christmas is coming.
Yes it is and if you're like me, you're probably brainstorming ways to make this holiday season extra special. One surefire way to make it memorable and make your colleagues and clients feel truly special is with a corporate Christmas hamper. So, let's dive in and explore some fabulous options that are sure to make your recipients' hearts sing with holiday cheer!
The ever popular Happy Christmas Mrs Q @ $75
Year in year out this hamper is one of our best sellers. Great value and an all round Xmas gift. Full of Christmas goodies (sweet and savoury) and perfect for your corporate Christmas Gift hamper choice. Anchored by a smooth tasting boutique pinot noir (everyone's favourite) and an array of gourmet Christmas treats and packaged beautifully in our quality hamper gift box with festive ribbon.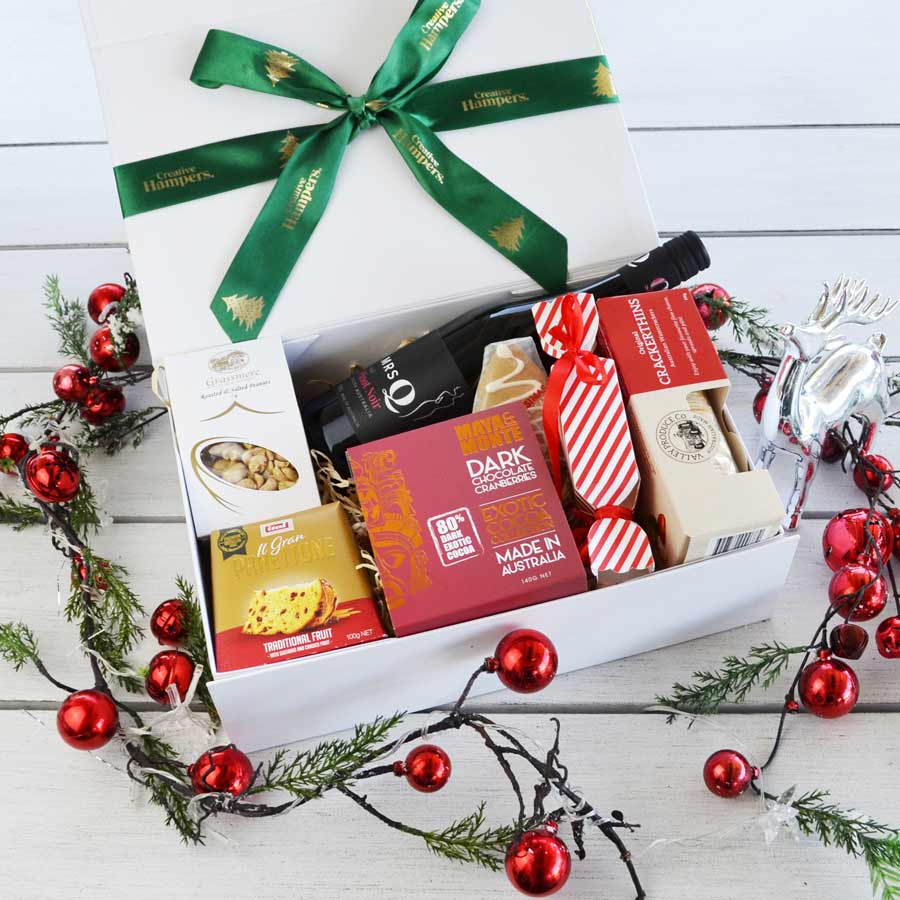 If alcohol free is a safer way to go with your clients or staff Christmas gift hampers then this hamper is a winner
For those who believe in indulgence during the holiday season (but not in the alcohol department) then Your Christmas Treats hamper includes a traditional Christmas pudding, mouthwatering chocolate delights, and Christmas crackers to pop on Christmas day …or that work Christmas party. There's so much more to this gourmet Christmas hamper …a gift that will make your recipients feel truly valued.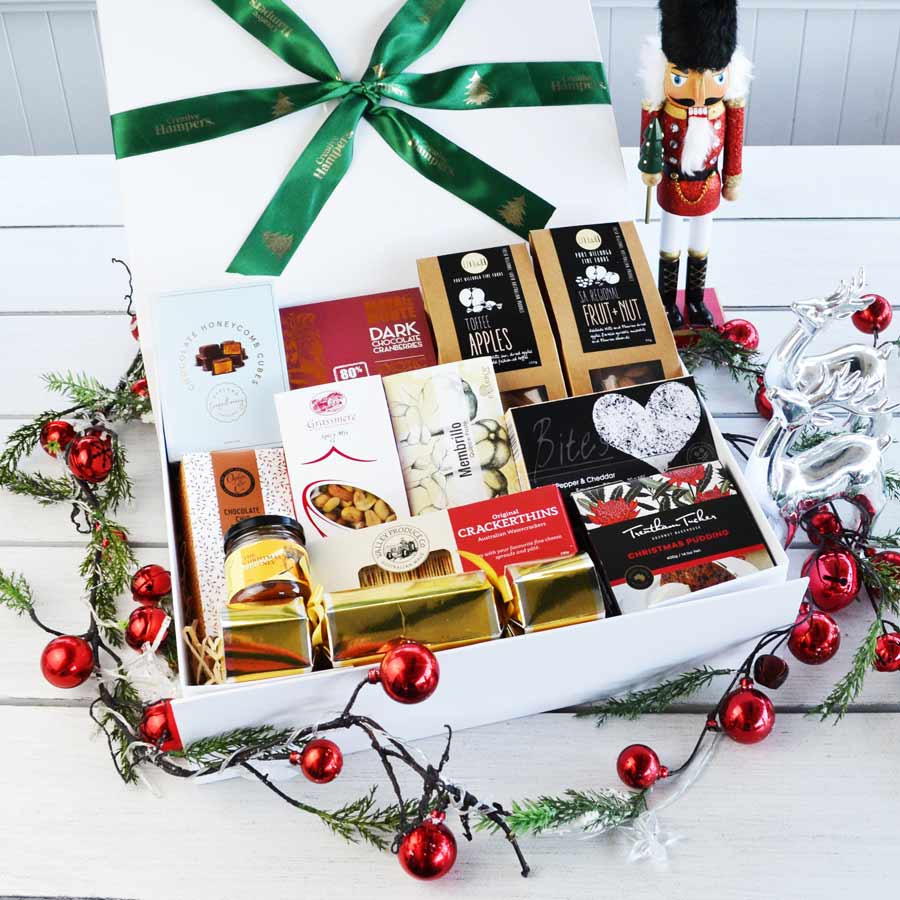 Christmas is about coming together with friends and family
This Festive Christmas hamper has everything you need for that perfect Christmas platter….just add cheese. This deluxe hamper includes a rich tasty merlot, cheeseboard, cheese knives, artisan crackers quince paste, fruit cake and nuts….a perfect addition to the Christmas table and suitable for all clients and staff as a Corporate Christmas gift.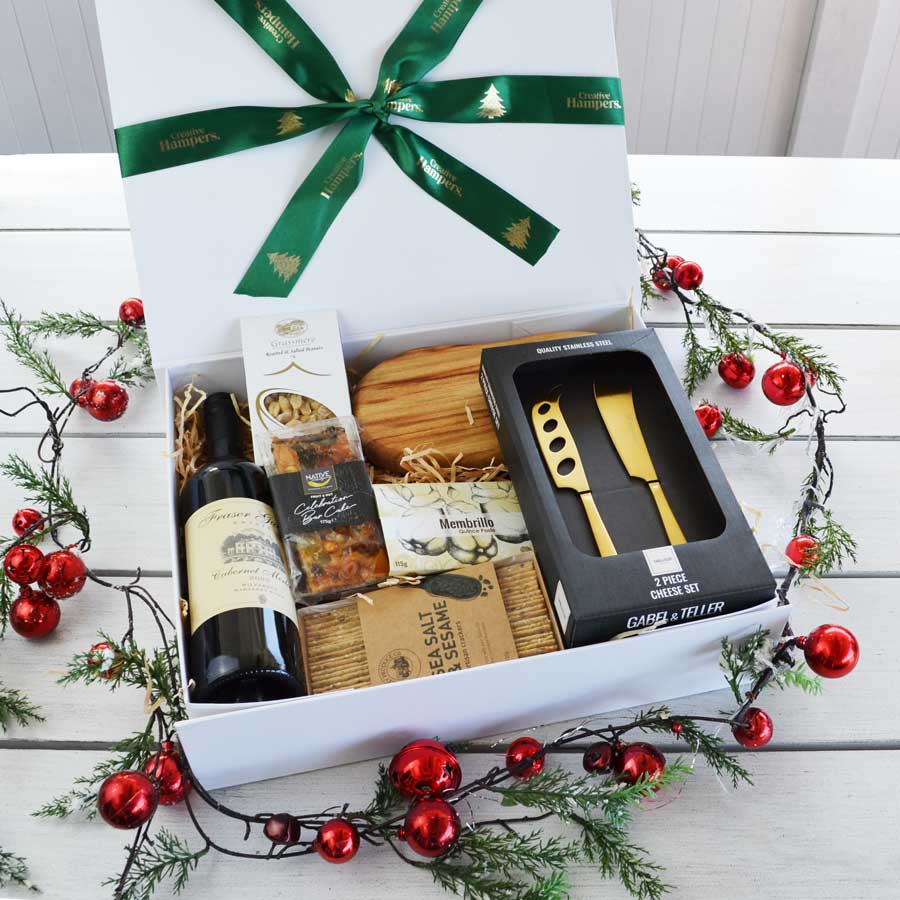 For some …champagne is a must at every Christmas gathering.
It's a Champagne Christmas …Mumm @ $197
If you're looking to surprise your recipients with only the best then this Corporate Christmas hamper is the one. From the best French champagne (we have Moet, Veuve & Piper too) to savoury snacks, artisanal crackers and sweet treats like the traditional Christmas pudding and decadent chocolates, this hamper has it all. It's a thoughtful choice for those who appreciate a variety of flavours and textures and not to mention the very best in champagne!, making it a Corporate Christmas gift that keeps on giving throughout the holiday season.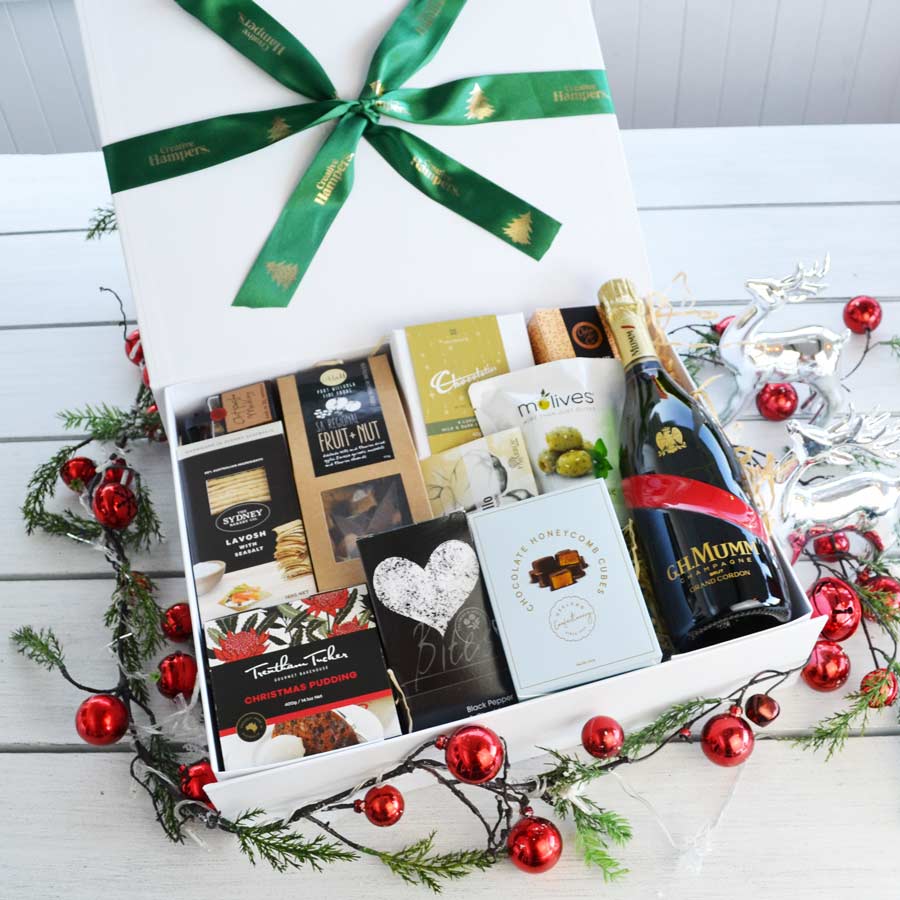 So once you've made your selection here are some great tips to add that personal touch to your corporate Christmas gift hamper and make it even more memorable. That icing on the Christmas cake!
1. Add a personalised note to your Corporate Christmas gift.
This takes but a few moments to craft but goes a long way in making your gift personal. At Creative Hampers every Christmas hamper comes with a free personalised gift card no matter where you send it in Australia . So don't forget to add your note to your Christmas hamper
2. Customisation
For a Corporate Christmas Hampers we can customise them to your budget and tastes and we can happily curate to your brief. Add that extra touch with branded ribbon….you company's logo printed on the box ribbon. Book your Christmas hampers early in 2023 (before November 1) and branded ribbon is free (minimum order quantities apply). This not only adds a professional touch but also makes the Christmas gift uniquely yours.
3. Timely Delivery
Ensure that your hampers are delivered on time. Early deliveries can spread holiday cheer and give your recipients plenty of time to enjoy their gifts.
4. Follow Up
After the holiday season, follow up with a thank-you email or a call. It's a great way to strengthen relationships and show that you genuinely care. Plus it gives you a reason to make that call back
So, there you have it—four of the best Corporate Christmas hampers in Australia that will make your corporate gifting unforgettable in 2023 and 4 great tips to make it even more special. Remember, it's not just about the gift itself but also the thought and care you put into it. Spread some real holiday magic and create lasting relationships with your clients and staff this Christmas with these beautiful and the best Christmas gift hampers at Creative Hampers. Happy gifting and Merry Christmas!