Corporate Baby Gift Hampers for Trust, Loyalty … and being nice.
A valued member of your team has just had a baby, or their partner has. It's an exciting joyous, stressful, exhausting, life-changing time. Especially with a first child, it's a time when life priorities change, and work life balance goes to a whole other level.
Often the new babe comes just around that time in people's career where they are reaching their peak – old enough to be experienced but young enough to inject energy and innovation into your organisation. So as their boss your challenge is retain this most valuable business asset, keep them connected with their career and at the same time be supportive.
Corporate gifting is a brilliant way of fostering long-term trust and loyalty with valued staff. You might also have a valued client or supplier with a newborn. Imagine what a thoughtful gift from you would mean to your long-term working relationship.
Our team at Creative Hampers know all about work life balance. As mums running a business, we know just what's going to be appreciated by a hard-working parent of a new baby.
Why you should be giving corporate baby gift hampers
But first let's just check in with the good business reasons to send gift hampers, apart from just being the nice person that you are.

Good employees are thin on the ground in most industries at the moment, so retaining the ones you have is a high priority. Competitive remuneration isn't enough these days; the best employees are looking for something more. They want to be part of a culture that makes them feel like colleagues are family.
Having a baby is an occasion to be celebrated. Instead of doing so with a simple card, or ignoring it altogether, employers and managers can make use of corporate baby gift hampers to show how much the new parent means to them and how important they know this time in life is.

Celebrate a milestone with staff or clients
Once again, having a baby is a big event, so it's something to be celebrated in its own right. A baby gift hamper is the perfect way to let a colleague or client know that you recognise the importance of this milestone and are thinking of them.

When staff go away on parental leave, they can feel left out of the loop and disengaged from the team back at the office. Take this opportunity to send them something special like a corporate baby gift hamper with an update on all that's been going back at work. This will go a long way to making them feel special, making them feel like people are still thinking of them. Not only will this make the return to work easier, but they'll be happy to return to their second 'family'.

Work with a Creative Hampers consultant
You know of a colleague or client who has gone on parental leave and you want to celebrate it with something special, but – as always – time is not on your side. Fortunately, you have the experience and expertise of the Creative Hampers team to lean on.
We have an extensive range of baby gift hampers which you can easily buy online, plus a whole page dedicated to corporate hampers. But if you need a little help, call us to talk to a real person who'll get everything organised for you.
To learn more, check out our corporate gifting process, our branding optins, or fill out an enquiry form and we'll get back to you right away. And if you're interested in giving something back to society while boosting loyalty and goodwill among staff and clients, have a look at our corporate responsibility partnerships.
4 Super Cute Baby Gift Hampers to go Aaaahhhh
---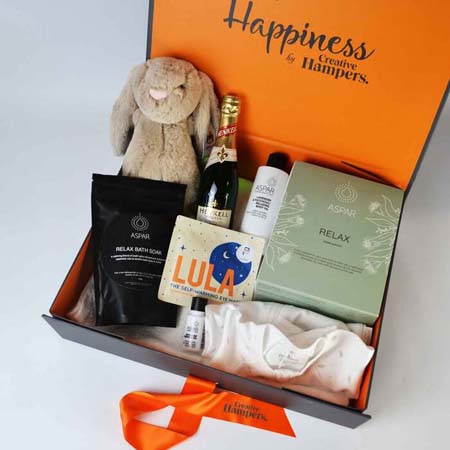 Introducing the perfect baby shower gift for the new mum! This hamper contains everything she needs to enjoy a relaxing and indulgent bath time experience, including a guided meditation audio track from Lyndall Mitchell. Plus, there's the super soft & ever popular Jellycat bunny to cuddle. Full of high-quality indulgent gifts, this gift box is the perfect way to treat mum and bub and bring a little lux into their lives.
---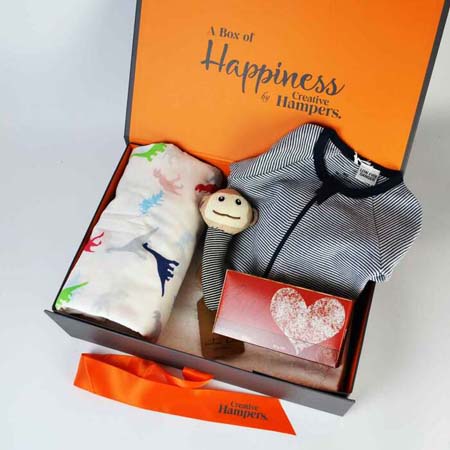 There's a new little boy in town, and he's already stealing hearts! Welcome him with this adorable gift hamper, filled with everything a new parent needs. There's a muslin wrap printed with dinosaurs, a sweet growsuit, and even some shortbread bites for the mum – because she has seriously earned it. This baby gift hamper is the perfect way to celebrate the newest addition to the work family.
---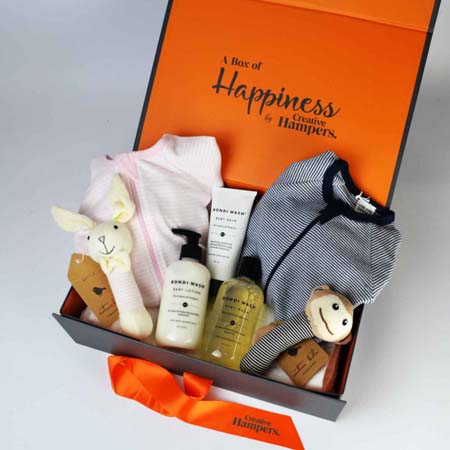 Double the fun, double the trouble - and twice as sweet! The Twin Time Hamper is perfect for new parents with two new little ones. It comes with two adorable growsuits, two rattles, plus Bondi body lotion, balm and wash. The growsuit and rattles come in a range of colours to choose from. This special baby gift box will let the new parents soak up the sun and relax with your sweet twins. A great way to celebrate their arrival in style!
---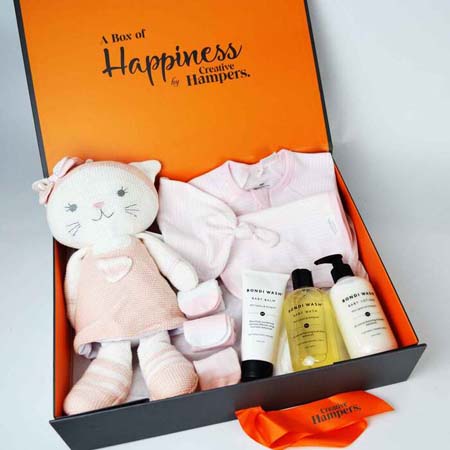 Looking for a unique baby gift hamper that is overflowing with goodies? Look no further than the Daisy The Cat Hamper! This amazing gift set comes complete with Bondi Wash, a natural baby balm, and a variety of sweet and stylish clothes. Plus, you'll get an adorable knotted Daisy the Cat to cuddle and care for. So don't wait - order the Daisy The Cat Hamper today!
Still can't decide on the best baby hamper? Give us a call!
It's not easy buying gifts, and there's an added layer of difficulty when it's a momentous occasion such as the arrival of a brand new bub. If our amazing range of baby gift hampers has left you paralysed by choice, don't hesitate to give us a call and make use of our experience and knowledge.
For more corporate gifting advice...
Our Hampers Ideas page is chock-full of great ideas and inspiration when it comes to corporate gifting, with articles on: