We devote ourselves to creating stunning baby girl gifts that fulfill every wish a new parent could have.
Welcoming a baby girl into the world
Motherhood is a remarkable chapter in life, a journey of love, resilience, and endless discovery. The arrival of a baby girl brings a unique set of emotions and aspirations, intertwining the mother's own experiences as a woman with the promise of a bright future for her daughter.
Having a baby girl is a profound experience that touches the very core of our identities as women. It's a beautiful opportunity to pass on our wisdom as we prepare her to navigate the world with determination and self-belief. We hold bright futures for them in our hearts, envisioning a world where they are empowered, fearless in the pursuit of their dreams and embrace their femininity as a strength.
As mothers of teenagers and young adults, with both sons and daughters, we've been fortunate enough to witness the incredible growth and transformation that our children have undergone. Our daughters have grown into remarkable young women, fierce in their determination and compassionate in their actions.
Welcoming a baby girl into the world marks the commencement of an extraordinary journey and a beautiful shared adventure. As mothers who have experienced this profound joy firsthand, we understand the depth of this moment. It has inspired us to create truly beautiful baby hampers, ensuring that they embody the essence of love and celebration that surrounds the arrival of a precious baby girl.
Creative Hampers – proudly owned and led by three mums
It all started with a glass of wine and a heartfelt conversation among friends, as good things often do. The desire to embark on our own journey, pursue ambitious dreams, and seize control of our destinies.
Greetings from Sarah, Rachel, and Learne – we are Creative Hampers, a proudly 100% female-led, Australian-owned business.
What goes into creating the best baby girl gift hampers
As mothers ourselves, we intimately understand the pure delight that comes from receiving a considerate gift for our little ones. That's why we dedicate ourselves to curating stunning baby gift hampers that encompass every wish a new parent could have.
We offer a diverse selection of baby girl gift hampers to cater to every family's unique needs and preferences. From snuggly blankets and adorable outfits to comforting lotions and essential nursery items, each item in our hampers is carefully selected to ensure utmost quality. Our hampers are meticulously crafted with love and expertise, drawing upon extensive research and our own experiences as mothers. Our baby girl hampers are guaranteed to bring joy and delight to both parents and babies alike.
Baby girl gift hamper ideas
Looking for baby girl hamper ideas? We've picked out some of our favourite hampers to get you inspired and help you find the perfect gift. Whether you're looking for a blissful spa experience, an adorable soft toy companion, or an outfit that will make your heart melt, we've got you covered. These hampers are just a sneak peek into our full range of baby girl gifts that will leave you spoiled for choice.
A picture-perfect outfit - our favourite baby girl clothes hamper
The Cuddles for Her Baby Hamper features an adorable collection of items that will make the new baby girl look absolutely precious on outing with mum or when meeting someone special for the first time. At the heart of this hamper is the PureBaby pink and white striped baby growsuit. Renowned for its exceptional softness, this growsuit is as gentle as baby's delicate skin. It's the perfect outfit that will make every cuddle and playtime extra comfortable. To complete the ensemble, we've included the PureBaby pink and white striped knot hat and bib, pink socks and pink converse-style baby runners. Seeing the little one sport these tiny shoes will melt hearts and bring smiles wherever she goes.
This hamper also comes with a pink knitted crinkle penguin - a cute and cuddly companion that will captivate the little one's attention while providing endless snuggles and comfort. And to keep baby cosy and warm, we've included a crocheted cotton baby blankee. This blanket is perfect for providing an extra layer of comfort during naptime and outdoor excursions.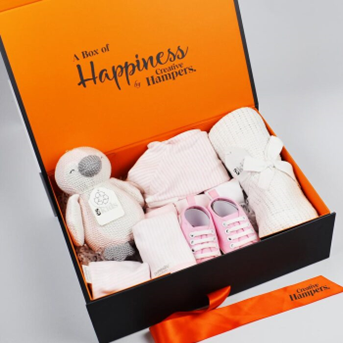 A luxury baby girl gift both mum and bub can enjoy!
Looking to treat a new mum in your life? Look no further than the Mums and Bubs Spa Time Hamper. This thoughtful gift is designed to provide much-needed relaxation and rejuvenation for mothers navigating the beautiful but demanding journey of motherhood. Inside this pampering hamper, she'll discover the Aspar Relax Home Spa Kit. It's a sanctuary in a box, with a Relax Bath Soak and revitalizing essential oils that will melt away her stress. The lavender and patchouli body oil will leave her skin feeling silky smooth, while the guided meditation audio track by Wellness Coach Lyndall Mitchell will transport her to a state of complete tranquillity.
This hamper also creates a beautiful opportunity for her to share a bath with her new baby girl, promoting skin-to-skin bonding and enhancing the intimate connection they share. She can then wrap her baby girl in an unbelievably soft PureBaby growsuit before cuddling up with a gorgeous Jellycat bunny for some bedtime stories. The Mums and Bubs Spa Time Hamper is the perfect gift to help a new mum relax, recharge, and feel appreciated.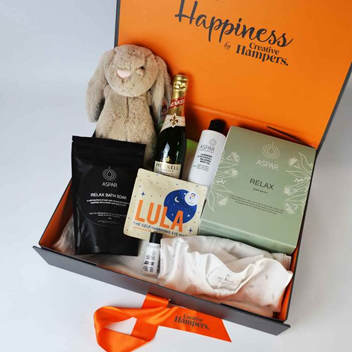 Soothing touches and cuddles: a hamper perfect for baby massage
The Daisy The Cat Hamper is a complete package, designed to enhance the bonding experience between parent and baby. From bath time to baby massage and dressing in the luxuriously soft Purebaby outfit, every element is crafted to create beautiful moments of love and connection. The gorgeous Bondi Wash Baby Hair & Body Wash is the perfect companion for bath time, creating a gentle and soothing experience for both baby and parent. With its natural ingredients and fragranced with the Blue Cypress & Petitgrain essential blend, this wash promotes a calming atmosphere while nourishing and protecting baby's delicate skin.
After the bath, mum and dad can give their little girl a beautiful baby massage using the Bondi Wash Baby Lotion. Its plant-derived ingredients are gentle and perfect for keeping baby's skin soft and nourished. It's a powerful opportunity to bond with the little one through the power of touch, creating a loving connection that will last a lifetime. Once baby is bathed and relaxed, dress them in the PureBaby growsuit, this outfit is truly as soft as baby's skin itself. And with Daisy the Cat by her side, the beautiful baby girl will have a cherished companion for endless play and snuggles.
From Sydney's Northern Beaches to homes Australia-wide
Explore our stunning range of baby hampers, meticulously crafted with love right here on the scenic Northern Beaches of Sydney. We take immense pride in handpicking every single item that graces our hampers, ensuring an exceptional experience for both baby and parent. As three devoted mothers, we have invested countless hours into researching and sourcing the highest quality products for our own little ones, and now for our beautiful baby hampers.
We have scoured Australia for the softest clothing, gentlest skin products, and most endearing toys for cuddles or sensory play, handpicking them from beloved local brands. When it comes to baby girl gifts in Australia, our collection of lovingly crafted hampers stands out. These hampers are not only distinguished by their superior quality and exquisite design, but they are also thoughtfully practical.
Browse our full range of baby girl hampers to find the perfect gift for your little one.