When it comes to baby sensory toys, there's one trusty companion that stands out among the rest: the humble rattle. New parents quickly discover that a rattle becomes their best friend in supporting their baby's development and providing endless hours of entertainment.
A Baby Rattle Named Cassandra
My daughter's favourite toy is a little plush polka dot bunny rattle named Cassandra. Named such by my partner who has diligently bestowed a name upon every toy that has joined our ever-growing arsenal of playthings. Cassandra was a gift from a friend during those exhausting first weeks of new parenthood, and it was an instant hit.
As we approach my daughter's first birthday, Cassandra has become a faithful companion, accompanying us on the incredible journey through the thousands of changes, big and small, that define the first year of life.
The trusty rattle has been stationed in various places around the house where we've needed it most, on the tummy time mat, attached to the pram, at the nappy change table, in the car seat. It now lives securely fastened to the carrier, the only form of containment our daughter approves of. This little companion is now an essential part of our outings, faithfully joining us whenever we step outside, ensuring that we're armed with a familiar source of fun and amusement.
So what is it about rattles that makes them the ultimate versatile toy for babies?
Sensory toys for newborns: The power of play
Sensory toys have taken the parenting world by storm, becoming the latest trend in early childhood development. With their ability to engage and stimulate multiple senses, these toys offer a wealth of benefits for babies, including enhanced sensory exploration, cognitive development, and motor skill refinement.
When it comes to baby sensory toys, the humble rattle holds a special place. Its simplicity and effectiveness in stimulating multiple senses makes it an enduring favourite.
Unlocking the Benefits of Sensory Play for Babies: The Magic of Rattles
Play is key to all areas of baby development, and when it comes to unlocking the benefits of sensory play for babies, the magic of rattles takes centre stage.
Teaching cause and effect
When a rattle is lightly moved, it produces a sound, teaching babies that their actions have consequences. This early lesson in cause and effect empowers babies to understand that they can influence their environment.
Grabbing attention
The captivating sound and colours of a rattle catch a baby's attention, prompting them to reach out and engage with it. This interaction is crucial for their development, improving their hearing, sight, motor coordination, and reasoning skills.
Encouraging focus during play
Playing with a rattle helps develop a baby's attention span. The captivating noise of a rattle draws their focus, and their desire to explore and understand it strengthens their ability to concentrate and investigate.
Developing grasping skills
Rattles are designed to be comfortably held with a baby's whole hand, supporting their initial attempts at grasping and strengthening their hand and finger muscles. As they continue to play with the rattle, their grasp matures.
Fine Motor Development
Playing with a rattle encourages babies to use and strengthen their hands and fingers. Over time, they will gain the dexterity to hold and shake the rattle in the air, honing their fine motor skills.
Gross Motor Development
Rattles and the enticing sounds they produce can motivate babies to reach for them, promoting motor milestones such as crawling, reaching, and even pulling to stand.
Visual tracking
The visual appeal of a rattle, such as its bright colours, interesting patterns or animal designs, can capture a baby's attention and encourage them to visually track the rattle as it moves. This promotes their visual tracking skills and enhances visual development.
Fostering hand-eye coordination
Babies develop hand-eye coordination by swatting and reaching for desired objects. The engaging sounds of a rattle motivate babies to practice reaching until they can do so accurately, enhancing their hand-eye coordination skills.
Tactile stimulation
Rattles come in diverse textures and shapes, providing babies with a range of tactile experiences. Little ones are naturally curious and often explore objects with their mouths, using their lips and tongues to gather information about the world around them. Rattles offer an opportunity for babies to engage their sense of touch not only through their hands but also through oral exploration. They can feel the different surfaces, contours, and materials of the rattle with their fingers, and as they advance in their development, they may also bring the rattle to their mouths, further enhancing their tactile exploration.
Teething relief
Some soft animal rattles may have textured surfaces or teething elements that can provide gentle relief to a teething baby's sore gums, offering a safe and comforting teething aid.
Auditory stimulation
Rattles introduce babies to a captivating array of sounds. By shaking and banging rattles on different surfaces, babies encounter a variety of tones, volumes, and rhythms. This auditory stimulation enhances their sensory development and expands their understanding of the world of sounds around them. It also encourages them to explore cause and effect, as they discover the correlation between their movements and the sounds produced by the rattle.
Promoting cognitive milestones
Rattles contribute to cognitive milestones, including object permanence. Hiding a rattle and encouraging a baby to search for it helps them understand that objects still exist even when out of sight. Rattles can also facilitate learning through one-step directions and imitation.
Cultivating curiosity and exploration
Rattles stimulate babies' curiosity, observation, and manipulation, nurturing their sense of discovery and promoting cognitive development.
Encouraging independent play
Rattles are among the first toys that babies can manipulate independently, promoting their independence and fostering a sense of exploration and discovery.
Social interaction
Rattles can be used in social interactions with parents, caregivers, or other babies. Shaking and passing the rattle back and forth helps babies develop early social skills, such as turn-taking and joint attention.
Self-soothing and emotional regulation
The gentle sound and comforting sensation of a rattle can provide a source of relaxation and self-soothing for babies. It can help calm them during moments of distress or promote emotional regulation.
Distraction during nappy changes
As your baby becomes more mobile and starts to explore rolling, nappy changes can turn into lively wrestling matches. However, a rattle can come to the rescue as a delightful source of distraction and entertainment. It can work wonders in diverting your baby's attention and encouraging them to remain on their back until you've zipped the last zip and pressed the last press stud.
Why baby sensory toys make the best gifts
Just picture the precious face of that new little bundle of joy in your life, all lit up with pure delight as they shake that delightful rattle. Their tiny hands exploring the little animal face, beautiful colours, intriguing textures, and captivating sounds.
But here's the sweetest part - that rattle you're thinking of gifting them? It has the potential to play a vital role in their development and become their absolute favourite, cherished toy, creating beautiful memories along the way.
So go ahead and gift that adorable rattle. You'll be giving them a whole world of happiness and discovery!
What to consider when buying a baby rattle toy
Age-Appropriate Engagement: Choosing the right toy for your baby's developmental stage is crucial for their engagement. A rattle can adapt and grow with your baby as they reach different milestones, providing ongoing stimulation and interest.
Baby-safe Construction: Ensuring the safety of children's toys is essential, especially when it comes to small parts. Opting for high-quality rattles that have been tested and approved by experts guarantees a safe choice for your baby. The rattles in our baby hampers are made from soft jersey and velour fabric, and easy to grip, ideal for little hands.
Safe for Mouthing or Teething: Babies explore the world through mouthing objects, and as they teethe, they seek relief by chewing on toys. It's important to select rattles made from non-toxic and premium materials to ensure they are safe for these behaviours.
Learning and Development: Every object your baby interacts with presents a learning opportunity. Choosing a rattle with an adorable animal design not only adds fun to playtime but also encourages cognitive development and sensory exploration.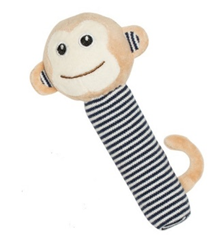 Gift a lovingly crafted baby hamper
We have an amazing collection of lovingly crafted baby hampers. Just like the rattles we include; we have put an immense amount of thought into every single item that goes into our hampers.
As three mothers from the beautiful northern beaches of Sydney, we have dedicated hours of research to finding the highest quality products for our own children and now for our beautiful baby hampers. We have meticulously sourced the softest clothing, the gentlest skin products, and the most lovable toys for our collection from some of Australia's most beloved brands.
We have been both givers and receivers of presents for newborns, and we know firsthand what makes a truly special and cherished gift. With our baby hampers, we have poured our hearts into creating a gift that is not only high in quality and gorgeous in design, but ones that are practical and will be enjoyed by babies and appreciated by their parents.
Below are some of our favourite baby hampers that include a rattle.
Or you can view our complete range of Baby Hampers.
| | |
| --- | --- |
| | This hamper includes a Blue Crinkle Penguin for endless cuddles, a PureBaby Blue and White Striped Baby Growsuit 000 for stylish comfort, an Emotion and Kids Crochet White Blanket for cosy warmth, a Blue and White Striped Knot Hat for a charming touch, a Blue and White Striped Bib for mess-free feeding, and three pairs of Pale Blue baby socks for adorable little toes. Complete the ensemble with the included Blue Canvas Shoes. This delightful hamper is a wonderful gift to mark this special occasion and bring joy to both parents and baby. |
| | One of our favourite baby girl gift hampers, it includes a Pink Knitted Crinkle Penguin for endless cuddles and playtime. The PureBaby Pink and White Striped Baby Growsuit 000 offers both comfort and style, while the Crocheted Cotton Baby Blanket in White provides a soft and cozy sanctuary for peaceful sleep. The Pink and White Striped Knot Hat adds a charming touch to any outfit, while the Pink and White Striped Bib keeps mealtime messes at bay. The hamper also includes Pink converse-style baby runners for adorable and fashionable little feet. Complete with three pairs of Pale Pink socks, this hamper is a perfect gift to bring joy to both parents and their precious baby girl. |
| | Our Purebaby Newborn Pack is the perfect way to celebrate the arrival of a brand new little one. Packed full of goodies from Australia's leading baby clothing company, this hamper contains only products made from 100% pure organic cotton. |
| | This hamper is filled with everything to bring joy to both parents and baby. A bottle of Chandon 700ml to toast to this special occasion, a Pure Baby Pink Striped Baby Growsuit, a Crocheted Cotton Baby Blanket in White for warmth and comfort, an ES Kids Sheep Stick Squeaker in Pink for playful moments, a Pure Baby Pink Striped Knot Hat, a Pure Baby Pink Striped Leaf Bib, and delectable Pure Butter Shortbread Bites. This hamper is the perfect gift to celebrate the arrival of a precious baby girl. |
| | Here's a special value gift hamper for that special new boy. There's a blue-and-white-striped suit made from the softest cotton and matching monkey rattle perfect for his little hand. |